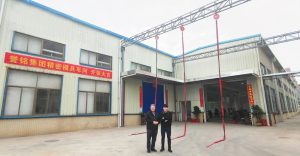 Goodmark Group is glad to announce that an opening ceremony is held for the brand new precision mold & die workshop in Guangdong, China on 31st December 2021. Mr. Leung, the founder of Goodmark Group, together with senior management team have participated in the opening ceremony.
As an important step of Goodmark Group's strategic planning, we invested CNY 50 million for the establishment of the new workshop, with the site area that exceeds 3100m2 and developed with more than 20 sets of imported precision mold processing equipment. The new workshop will not only provide an expansion on molding capacity for our existing clients, but it will also increase the ability to produce medium to large molds with the technical support by experienced engineers from the headquarter. It is estimated that this specific new workshop will be able to increase extra production of 30-50 sets of medium to large molds per month that fits injection machines of 2000T or below. The company's vision is to provide more reliable and diverse services in terms of technology and production, and also to further integrate the Group's production capabilities and provide more possibility to explore new customers.
"Equipment provides possibility,technology creates value, persistence drives results". Our objective is to become one of the leading brands in the molding and injection industry, and the new workshop represents a new milestone of the Group's history.
We would like to express our sincere gratitude to all of our clients for their long-term support and cooperation, and we truly appreciate to have our staff for putting efforts in the development. We look forward to your continuous support in the future.