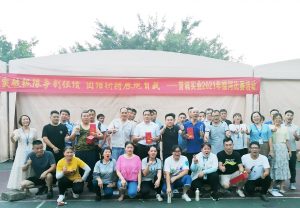 In order to increase the staff's sense of competitiveness and enhance the cohesion and cooperation between teams, Goodmark held a tug-of-war competition in our basketball court on 5 July, 2021 with the theme of "Breaking through the limit to create great performance, unity to show team spirit". There are total 8 teams with 10 members each, which has been participated in the competition.
The tug of war competition was held with 1v1 elimination system, the winning team from 2 out of 3 rounds will get to complete with another team. There are a champion, a runner-up, and a third place team to receive awards. Before the start of the activity, our production manager- Mr. Peng spoke for the opening ceremony, he mentioned "We hope every team can be united in pursuit of the championship!" and HR Manager- Ms. Ren also expressed "I hope all the teams will try their best to achieve the best results!".
During the competition, the audiences found that all the participants tried their best and aim for victory, even though they clothes were soaked with sweat, they never give up, everyone held the rope tightly in their hands and sticked together, because they knew they were fighting for their team and for the honor of their department. The cohesion of the Goodmark staff at critical moment was impressive and admirable.
This activity aims to enhance the sense of competitiveness between the teams. By holding this competition, we not only inspired employees to find their potential advantages and encouraged them to break through their own limits, but we also indicated that we should be united when facing difficulties and be willing to make efforts for the honor of the team, we should always put the team's interests on our top priority to achieve a win-win situation.
Although there were only three awards, each of the team has done the best and they were all excellent and honorable. Through this event, it was proven that every team member has their own outstanding strengths, and as long as they use their talents and strengths correctly, everyone can be the dark horse of the team. The tug of war was just a practical team building activity, and in fact, work is considered as our real battlefield. By experiencing in such exciting competition, we hope that every staff can realize the importance of teamwork, which will benefit ourselves greatly in the future.